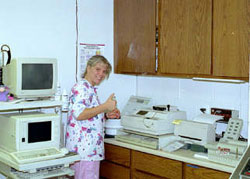 Our in-hospital laboratory provides state-of-the-art blood chemistry, hematology and parasitology equipment for both emergency and routine testing. This allows our doctors to quickly and accurately diagnose and treat ailments in your pet on-site.
We also make extensive use of our laboratory for pre-anesthetic blood profiles for our surgical and dental patients. This allows us to detect any underlying conditions that may not be observable upon physical exam and ultimately increase the safety of our anesthetic procedures.
For more involved laboratory needs (i.e. histopathology, cytology, endocrinology, immunology,…) we extensively utilize Antech Laboratories for our out of hospital needs. All of this is done to give our clients and their pets the most thorough and efficient laboratory services available.