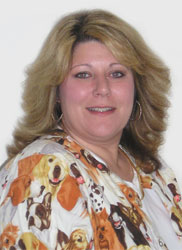 Janice King has been the owner of Maple Springs Veterinary Hospital since 2004, after managing the practice since 1997. She is the mother of five children: twins Jennifer and Richard, Michael, Shelby, and Sterling Branden. She is married to Tony King. Janice has many pets in the family: Labrador Retriever "Hemi", German Shorthair Pointer "Rockingham" , Jack Russell "Short Circuit" , Chihuahua "Rylee", seven cats "Scooter" , "Skeeter", "Socks", "Charlotte", "Bristol", "Noah", and "Allie", three horses Clydesdale/Thoroughbred "Elliot", and two Painted Draft Crosses "Casie" and "Sulley" , and a rabbit "Carborator".
Janice began her veterinary career at North Laurel Animal Hospital with Dr. Bob Cohn in June 1982. Through on-the-job training, veterinary technician training classes, and seminars, she worked her way up from Kennel Technician to Senior Veterinary Technician and Assistant Bookkeeper until June 1994. She then accepted a position at the very successful eight doctor practice, Lewis Veterinary Hospital. It was there that she met Drs. Vall, Harvey, and Cooper. Shortly after arriving at Lewis, Janice was promoted to Head Surgery Technician and Technical Supervisor. In June 1997, Dr. Patrick Vall purchased Maple Springs Veterinary Hospital and asked Janice to manage the hospital for him.
Drs. Harvey and Cooper joined the Maple Springs staff very shortly after that. In March 2004, Dr. Vall , his wife, and children decided to follow their dream and move to his wife's home state of Colorado, where they now own Animal Medical Center in Woodland Park. Leaving his clients, patients, and friends in Maryland was sad, but, Dr. Vall knew Janice, the now owner of Maple Springs, with help from Drs. Strong, Harvey, Cooper and the rest of the MSVH staff, would continue the excellent level of service and care clients and patients had come to know.